When it comes to roof cleaning Cobham residents love the services we offer. Your gutters and driveway can also receive expert treatment if you need a full package service. As a result we can provide great value for money.
While a lot of people are familiar with the phrase 'a roof over your head', there are still those who neglect to care of this important area of the house. It is simple enough to do when we are the roof cleaners Cobham and further afield can call on.
Thorough Cleaning
We offer a free 15 minute quote so that we can better understand the situation and what work you need. If you need advice, this is another thing we can provide. For example we can tell you how often you should have someone clean your roof to give it the care it needs.
By keeping the roof in great condition you can drastically reduce the likelihood of repairs. Ultimately you will be able to extend the life of your roof and save money.
First Class Results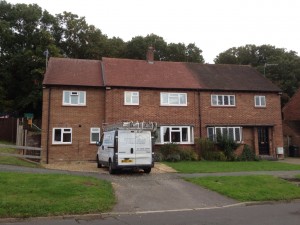 We care about removing moss and other substances from your roof to make it great. All traces will be taken care of through the use of a specialist biocide so that it doesn't return quickly.
Our work is always done to high standards, including taking care throughout the process. What this means is that we take measures to try and keep your tiles from breaking when we clean. Our methods are manual rather than using harsh tools which can weaken your roof like jet washers. This may look effective but it can reduce the life of your roof. The service we offer is gentle and reliable.
Leave the care of your roof in the hands of experts by contacting Surrey Roof and Gutter Clean. Why rely on anyone else but the premier provider of roof cleaning Cobham and surrounding areas trust for amazing results?
Roof cleaning Cobham loves to use
We are more than happy to answer questions and provide people with more information on our services. Whether it is domestic or commercial, for roof cleaning throughout the area, call on us. Get in touch at 07592 589484 or info@surreyroofandgutterclean.co.uk.