Roof Cleaners Surrey
Regular cleaning of your roof and gutters is an essential part of property maintenance. But, it can be a difficult and dangerous task to do by yourself. It is always a better idea to get the professional roof cleaners Surrey offers to take care of it for you.
At Surrey Roof and Gutter Clean, we have the experience, equipment and skills to clean all types of roof safely and thoroughly. This ensures excellent results while saving you time and effort. We are based in Guildford but offer our services throughout Surrey and surrounding areas. We are always ready to take on a new challenge.
A roof can easily become dirty and overgrown with moss and lichen. When this happens, it will inevitably have a negative impact on the appearance of your entire building. Regular cleaning will keep your roof looking at its very best. This will help you to maintain the image you want, while also extending the life of your roof tiles, saving you money on repairs and replacements.
Expert roof cleaners in Surrey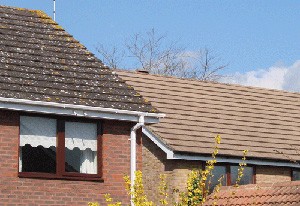 We use carefully developed techniques and carry out the cleaning by hand. We do this in order to thoroughly remove moss and dirt without causing any damage to the roof itself, which can happen with jet washing equipment. Furthermore, we apply a biocide wash to prevent the moss and algae from coming back. This keeps your roof looking good for longer.
We also offer patio cleaning to help give your exterior areas a new lease of life. This is in addition to gutter cleaning to ensure rainwater can continue to flow away from your property. It is crucial to keep gutters clear and free from blockages in order to avoid water damage to your property. With our help, you can ensure you are safeguarded all year round.
As a highly experienced and fully insured company, we have earned an outstanding reputation. This is not only for our high quality cleans, but also for our commitment to customer service. We will always be happy to answer your enquiries about our roof and gutter cleaning service.
If you would like to know more about what the roof cleaners Surrey trusts can do for you, feel free to get in touch. No matter how challenging the task, whether it involves a commercial or a domestic property, our team are ready to take it on and exceed your expectations every time.