Roof Cleaning Companies Surrey
If your roof has lost its original lustre due to a build up of dirt, moss, algae and debris, you need a professional cleaning service. This will restore it back to its best and give your property the clean, fresh appearance you want. We are one of the most outstanding roof cleaning companies in Surrey.
We offer a versatile cleaning service that covers your roof, fascias, gutters, patios, and other external areas. When you are working with us, you can always expect brilliant results for a great price.
The best option for your roof
Many people think that they have to use harsh techniques such as jet washing for an effective roof clean, but this is not the case. These kinds of cleaning methods can actually cause more harm than good. In fact, this can loosen your tiles and shorten their lifespan.
We are committed to preserving your roof by using only gentle yet extremely effective techniques and sophisticated equipment. We clean away all moss by hand, which allows us to pay close attention to every part of the roof without causing any harm. Then, we apply a biocide which helps to prevent moss and algae growth from returning in the future. This will give you excellent long term results.
What about the gutters?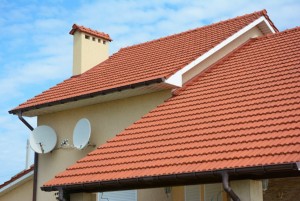 Gutter cleaning is one of the most crucial parts of property maintenance. The reason for this is that blocked gutters can cause a host of problems. This can include everything from mould and damp inside your property to pools of stagnant water and damage to the guttering system itself. However, it is not advisable to attempt the work yourself. This is because it can be unsafe and you may end up causing damage if you do not have access to proper equipment.
We can provide you with a complete gutter cleaning service. As a result, the rainwater will keep flowing away from your house or business premises. This will safeguard you from the destructive results of blockages while always remaining completely committed to health and safety.
Roof, gutter and fascia cleaning is only part of what we do; our versatile team also regularly complete patio, decking and driveway cleaning. This helps give your exterior area a pristine, fresh appearance. No task is too challenging for Surrey Roof & Gutter Clean. We are ready to work on all types of domestic and commercial properties.
Work with one of the best roof cleaning companies Surrey has
Get in touch with us today if you would like to know more about one of the best roof cleaning companies Surrey could hope to work with. We can tell you call about how we can preserve your roof and keep it looking great long in the future.