A property is one of the biggest investments people make in their life. Because of this, you should be investing in maintenance and care for all necessary areas. You shouldn't give all of your attention to the interior and remember another huge area, the roof. This isn't difficult when you can turn to us for the roof cleaning Leatherhead relies on.
Be proactive with roof cleaning in Leatherhead
Leaving your roof covered in moss and other substances is not a good idea. It can result in extensive damage in some situations which shortens the life of your roof. In addition, it can create a need for costly repair work and make your property look poor. Remember, the roofing is one of the first things people see when looking at your home.
You might have come to terms with the state of your roof but this isn't necessary or a wise move. Our work isn't harsh but is highly productive. It won't be long before the roof of your property is transformed. There won't be any patches of moss or dark stains so you don't have to worry about the potential damage.
Gutter cleaning is just as important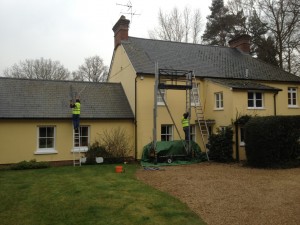 The roof over your head keeps you and your belongings dry and safe. Any water on this surface will drain into the guttering and away where it cannot cause any issues. Unfortunately gutters can also collect debris like twigs and leaves which will block the flow of water.
There is no need to worry though as our work covers this too. You won't have to deal with filthy looking guttering or blockages. Our wet vac and pole system along with our detergent will give it the attention it needs. You can rely on us to offer the best gutter cleaning in Leatherhead.
Leave it to us
You shouldn't underestimate a job like roof cleaning. Working at a height like this has risks such as falling. You also risk damage to your roof, guttering, and other areas of your property like the driveway. It is better to leave the job to a professional.
The correct equipment, training, experience, and skill are necessary if you want to effectively care for your property. Call us for the roof cleaning Leatherhead and other areas in Surrey can trust for outstanding results. We also offer gutter, patio and driveway cleaning, making it easy to arrange a single reliable service.