At some point, while walking towards your property, you might have casually gotten a glimpse of your roof. This can leave you with the fleeting thought of starting to look for Surrey roof cleaning to tackle the job. The answer to this thought lies with us: Surrey Roof & Gutter Clean.
Maintaining superb standards of work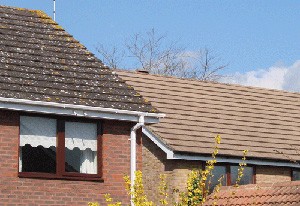 We have been offering our professional services to the surrounding areas of Guildford for many years. We are even confident enough to guarantee your satisfaction should you choose us. The key to our success is based on providing dedicated as well as trustworthy services to the community. This more than often results in building good working relationships with our customers.
We know that in the great majority of cases, its not only about spraying chemicals. The reason for this is that this will only give you temporary results and exposes your home to harmful substances. We really take pride in our work. So, we evaluate each situation separately in order to give realistic quotes.
Work you can count on for stunning results
With typical English weather conditions, a roof can quickly lose its charm if maintenance is neglected for long periods of time. When it comes to roofs we offer two ways of cleaning. Firstly, we will manually remove the accumulation of moss and algae. This hands on process is gentle and prevents possible damage to the tiles on your roof by avoiding the use of abrasive pressure washing systems. The second step is washing the surface with biocide. This kills any organic material left, providing you with lasting results.
We not only offer cleaning services for the roof, but we can also tackle your property's patio, drive, and gutter areas. This completely refreshes your property's outside area. After our job is done, the difference will be highly noticeable. So, go ahead and get in touch with us. Restore your property's exterior to its glorious past and uncover what lies beneath.
Surrey roof cleaning you are sure to love the results of
If you are interested in our services, call us today for a no obligation quote. A member of our team will come to your property to assess the area for tile type, area size, and how accessible it is to our staff. These visits can last a brief 15 minutes of your time, which makes them very convenient. Most importantly a member of our staff will be able to provide you with an accurate quote on the work needed.
When you find yourself in need of Surrey roof cleaning services, look to us. We can be reached by telephone by calling 07592 589484 or you can email us by using an enquiry form located on the contact section of our site.