When they are looking for first class roof cleaning Leatherhead homeowners simply need to call us. Surrey Roof & Gutter Clean understands what is necessary to care for your property. This includes removing debris and growths without the use of harsh methods that could harm the roof.
A Neglected Area
Far too often, property owners take the attitude of "out of sight, out of mind" when it comes to the roof. This even happens with people who work hard caring for their home. While they might spend a lot of time vacuuming and gardening, they don't give anywhere near enough attention to the roof.
It is understandable that this happens when you think about the fact that you cannot easily reach the roof. People don't want to climb up there because it is dangerous. Despite this, cleaning is still important. Moss, lichen, algae, and decaying leaves will eat away at your roof, reducing its lifespan as well as being unattractive.
Rather than spending a lot of your money repairing the roof or possibly even replacing it, you should invest in regular cleaning.
But, How Often?
The location of your property and its immediate environment will influence how often the roof needs cleaning. Generally, you will need to clean it every 18-36 months. A specific timeframe will depend on things like levels of rainfall. A lot of rain encourages moss and mould to grow.
Another important factor is shade. Moss, algae, and lichen will grow quicker on a roof that doesn't see a lot of sun. Furthermore, you need to consider the proximity to foliage. The reason for this is that falling pine needles and leaves will add to the debris on your roof and can encourage growths.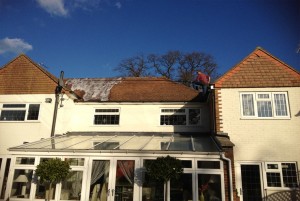 A professional roof cleaner will be able to advise you on how often your roof will need cleaning. We can help with this through our expert knowledge and effective methods. Our work will leave you with a clean roof that looks beautiful and is free from growths that can be harmful.
You can reach out to us for the roof cleaning Leatherhead and surrounding areas regularly rely on. We can then provide you with a free quote along with additional information about our work.