We are professionals who excel at providing roof cleaning Dorking residents can count on. For years, we have been serving the area and any property owners who need help. People contact us because they know we prioritise long lasting results over a quick finish. In addition to giving you value for your money, our methods also prevent the premature deterioration of your rooftop.
Harming the roof
Growths of moss, fungus, and algae can harm your roof. They do this via wood rot and shingle deterioration. Both result in pricey repairs. Moreover, they can reduce the lifespan of your roof significantly. Wood rot in particular is a big problem.
Moss has the ability to hold a lot of moisture. It is capable of diverting water too. This leaves your roof deck vulnerable to leaks and wood rot. Moss also has a habit of growing in the spaces that exist between shingles. Water can remain here for longer and if it freezes it can prise the shingles up, creating a bigger hole and allowing more water to enter the roof.
You may not see any signs
It is usually not difficult to locate organic material growing on your roof. It tends to create quite visible patches and stains when it is mature. However, even if the roof looks clear, there may be some growths. It is better to get a professional to inspect the surface to tell you if there are any.
It is also tough to spot signs of wood rot. As a result you may not know how much damage has been done to the property. It is even possible for you to have a leak without knowing it. This shall lead to further wood damage. Aside from shortening your roof's lifespan, it can result in mould growth. This is hazardous to both the inhabitants and their pets.
Pests
Once the wood starts to rot, it can cause even more problems. Most importantly it can attract a variety of pests. Fortunately, roof cleaning can assist you in stopping wood rot.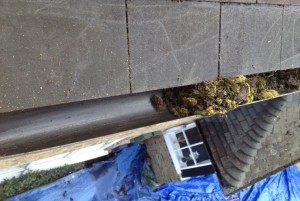 At Surrey Roof and Gutter Clean, we use a myriad of treatments to restore your roof's appearance. We can also attend to your gutters if you need us to. This means you get a first rate service that can really protect your property.
If you require help from the finest company specialising in roof cleaning Dorking has, please get in touch. We can even offer a quote if you want an idea of the cost before you commit.