A dirty roof may not seem important. However, keeping it clean is essential to making sure it lasts. The debris that accumulates can undermine its structural integrity. What you should do here is work with our team. We are the foremost business for roof cleaning Woking has, so you can rely on us to offer a great service.
Anyone who lives in rented properties will tell you that ensuring the property is in good condition is important. Building maintenance of any kind is among the major responsibilities for people who oversee property portfolios. The everyday maintenance duties like utilities and structural normally get the most attention. However, there are several reasons why roof cleaning is something you can't ignore.
Safety reasons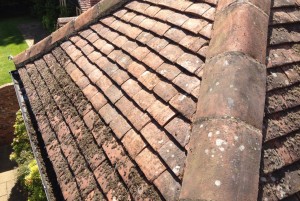 Safety is one of these reasons. Of the various ingress issues you can encounter, water is one of the more destructive. Not to mention, a structure's guttering is one of the main ways that water moves away from the building when it rains. It might appear like it is out of your sight and mind. However, obstructions on the roof and in the guttering can result in huge damp issues.
If excess water leaks into the roof or down the walls landlords will have big problems. For example you will likely have a massive repair bill and an unhappy tenant. By having our experienced team safely clean the gutters, you will keep the building nice and dry. This is another area we excel in as well as being the top team for roof cleaning Woking has.
A buoyant property market
The cleaning can help with rental incomes as well. Some landlords have a high turnover of tenants, even with small blocks of flats. With big portfolios, this could lead to a multitude of move-ins each year. There is a buoyant property market out there with huge competition for tenants. Ensuring your properties are in a great condition is vital to getting an edge over other landlords. It can also make tenants want to stay for longer.
Give everyone a positive impression
First impressions are very important with rental properties. A filthy roof, gutter, driveway, or uPVC can put people off. In fact a dirty property could make the whole neighbourhood seem less welcoming. Individuals might also start to worry about the other maintenance jobs the management may not be doing correctly. With a professional service however, you can put all of those minds at ease. With clean properties, everyone will have more of a positive impression during viewings.
Less wear and tear
Finally, cleaning will assist in preventing wear and tear in the roofs, drives, and other places. You will be taking steps to making certain they last for as long as they can. Cleaning services do cost money, but not as much as it would for repair or replacement.
The best provider of roof cleaning in Woking
At Surrey Roof and Gutter Clean, we add longevity to all the buildings we work on using our talents. Instead of aggressive treatments, we remove everything manually. Additionally, we use a biocide to prevent organic debris from coming back quickly.
If you would like to work with the top company specialising in roof cleaning Woking has, give us a call. We are reliable and offer cost effective services.