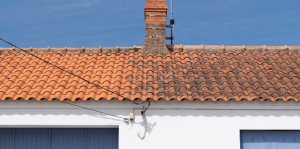 We are a team of professionals who strive to offer the finest roof cleaning Croydon has ever seen. In addition, we specialise in a variety of other areas. This includes gutters and driveways. Simply let us know what it is you need and we will get to it, ensuring everything is clean and in great condition.
Every house shall require a roof clean at some point. Before you start however, you may want to learn about some additional details. These relate to why certain structures demand more attention than others. In addition, they will reveal why you must clean fairly often. The appearance or age of your roof does not matter here.
The trouble with snow
For one thing, the snow on your house's roof could be holding debris like twigs and leaves. Once it starts melting, the debris does not move. It proceeds to cause harm to tiles and shingles. In some cases it can even end up in gutters and downspouts. If you live in an area prone to heavy snow storms, try to do roof cleaning each spring. Doing so will take care of that harmful debris.
Trees
Another point we would like to cover relates to trees. They shed sap, seeds, leaves, and other debris regularly. This gives birds a place to rest and nest. Residues from your trees in addition to bird droppings and feathers can damage a roof. Homes in areas with many mature trees normally require a fair amount of roof cleaning.
Soot and air pollution issues
If you live somewhere with a large amount of heavy vehicle traffic, air pollution and soot will be more common. You may have the same problem if there is an airport close by. Houses near any locale that attracts a huge amount of traffic typically require more frequent roof cleaning.
New roofs
It pays to never make the mistake of concluding that a new roof does not need washing as well. The age of the roof is not what dictates the degree of rain, soot, and dirt residue that ends up on it. Having us cleanse the roof frequently shall keep it in top condition. If you would like assistance from the foremost business working in roof cleaning Croydon has, speak to us.
Materials can and will still break down
Something else you should know is that countless contemporary roof shingles and tiles get treated with zinc or copper. Both are supposed to preserve them for years to come. However, it is entirely possible for the materials to break down. Since this is the case, you still have to assess the roof for repairs. Regardless of the shingles and their materials, you need to clean the roof on a regular basis. You must also check for decay and damage.
Hire the best team for roof cleaning in Croydon
At Surrey Roof and Gutter Clean, we are as committed as they come. Our reputation is one we have built by being reliable and quick with every service. We also steer clear of those harmful power washers too. Instead every service is gentle and by hand.
If you need help from the best company excelling in roof cleaning Croydon has, talk to us. We can give you a quote and lots of useful advice.