A quick and easy way to improve how your house looks is to clean the roof. Dealing with any moss or other growths can transform your home so that it looks new and beautiful. We know all about this through our work offering the roof cleaning Croydon relies on.
Why Clean A Roof?
A lot of people look into cleaning services to improve how good their roof looks. Another reason you should have it done is because a build-up of moss, lichen, and dirt will shorten the lifespan of your roof.
Influencing Factors
Like many tasks, the cost of this service varies. You have to consider things like the size and type of your roof as well as ease of access. It also depends on the extent of what needs cleaning as some people let moss accumulate for years.
You need to realise that you are paying for beautiful results. Workers achieve this with specialist tools and skills. They can do the job safely and effectively so that your roof is clean and stays that way for a long time.
Is It Worth It?
When your roof is clean, it will look better and you won't have to worry about organic growths causing damage. Regular cleaning will help keep it this way.
You should look at companies that stick with manual methods. While power washing can appear better because of its strength and speed, this can be too much for your roof. Cleaning this way can leave a lot of mess below and will damage tiles. Instead of this, we gently scrape away moss and then apply a biocide for the best results that last.
Get Your Free Quote Today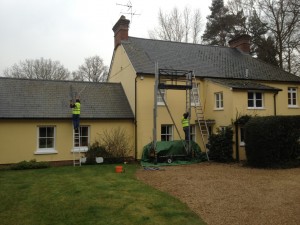 You can receive quotes online for a lot of jobs but ours isn't one of them. The best way to understand how much work your roof needs is to see it in person. This is the reason why we offer people free 15 minute no obligation site visits. You will then have a better idea of how to keep your roof in great condition.
We have a commitment to maintaining the highest standards of work for great prices. Reach out to us to learn more about the roof cleaning Croydon loves using. We will ensure your roofing looks incredible.