A surprising amount of debris can gather on rooftops, which can leave them looking very unsightly. That is not the only issue though. It can actually deteriorate the materials, whether it is tiles, shingles, or even steel sheets. As a result, it is important to clean the surface at the first given opportunity. We can aid you here by providing the top services for roof cleaning Camberley has.
Some people have solar panels on their roofs. In fact, with sky high energy prices at the moment, they are a really useful option. Even though they are not on every home, we feel that discussing the topic of cleaning them is necessary. We are going to look at it here so you know what you need to do if you have the panels.
How much maintenance do solar panels need?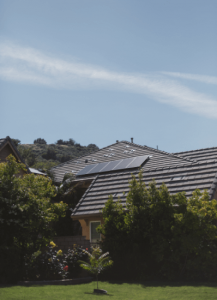 A solar panel system normally demands a low degree of maintenance. Additionally, they are extremely durable. In relation to their performance, the majority of products will do their job just fine if you fail to clean them for a few years. However, you may notice they are less efficient over time due to dirt and debris. Luckily, a simple cleaning job will enhance the overall performance for a while.
Although performance is a great reason to clean the panels, many people also choose to do it for the looks. For certain houses, solar panels get installed on their front. Such placement makes them extremely visible. That means people will likely notice if they are dirty and in a poor condition. But, cleaning can tackle this, improving the aesthetic. Please let us know if you require the highest quality services for roof cleaning Camberley has.
How often do the panels need cleaning?
In regards to the frequency at which you should clean these panels, there is a recommendation. You should clean them once or twice every year. By using the garden hose, you can rinse your panels off with ease. Although, there can be times when this won't suffice. That is due to ash and dust. In such a scenario, a deep clean will likely be necessary. Washing extremely filthy solar panels may demand a cleaning solution to dispose of the layers of dirt and dust.
If you are looking at a deeper clean situation, you can try using a basic cleaning solution. This is one that originates from standard household ingredients. It can reduce the mineral deposits and keep the panels operating at optimal efficiency. If you are not up to the cleaning task yourself, you always have the option of letting someone else handle things.
Expert roof cleaning in Camberley
At Surrey Roof and Gutter Clean, we specialise in cleaning roofs, gutters, and driveways. The team knows how important it is to cover all the angles here. If the roof is filthy, there is a good chance the other two spots will be as well. Luckily, we can provide a full service to get everything in order.
With the finest services for roof cleaning Camberley has at your disposal, there is no need to worry. So, feel free to speak to us if you require our help.