When they want to benefit from roof cleaning Epsom home owners know where to turn. We can help people through our expert services and advice so that you understand how to care for your roof. We also dispel myths about our work.
Algae is a sign that you need a new roof
A lot of homeowners end up replacing their roof when they see algae. But, the presence of this growth does not mean that you need to go to that length. In a lot of cases all that is necessary is a thorough cleaning. This will remove the algae and leave your roof looking like new again.
You only need to clean the parts with visible stains
While you might not be able to see algae on certain areas of the roof, that doesn't mean it isn't there and developing. It is invisible to the naked eye when in its early stages of growth. It then becomes visible in the later stages. If you can see algae on any parts of your roof then chances are it is probably growing all over it.
Removing algae won't do much for your home's curb appeal
Many people are shocked with the results of a roof cleaning because their home looks so much better. They get so used to seeing stains on the roofing that they forget how good it can look when clean. In a lot of cases it can help properties on the market get more offers. Sometimes, while the garden may look beautiful and the windows are lovely, a roof covered in moss and algae can destroy the curb appeal.
Roof cleaning is an easy DIY job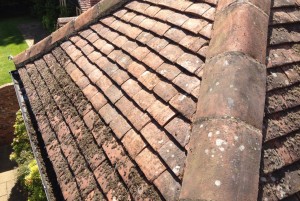 You should never think that cleaning a roof is quick or easy. Approaching a job like this with a cavalier attitude can leave you with an injury. In order to clean your roof effectively and safely, you need the right knowledge and tools. By taking the time and the right precautions for a job like this, you will end up with great results. It makes more sense to hire someone who knows what they're doing rather than risking your roof and your life.
To learn more about the services for roof cleaning Epsom depends on or for a free quote, reach out to us.